Issue: Inappropriate outdoor lighting in the community can be invasive and annoying to other community members. Effects can occur up to a kilometre away.
Our Respectful Lighting Program has six guidelines for outdoor lighting:
Only light to the edge of your own property, in the amount required for particular tasks, and not onto the neighbour's property or out onto the lake
Always choose fully-shielded fixtures that point their light directly downward
Use "warm white" or filtered LEDs <3,000 K, to minimize blue emissions
Look for products with adaptive controls like dimmers, timers and motion sensors
Consider dimming or turning off the lights during overnight hours
Avoid temptation to over light because of higher luminous efficiency of LEDs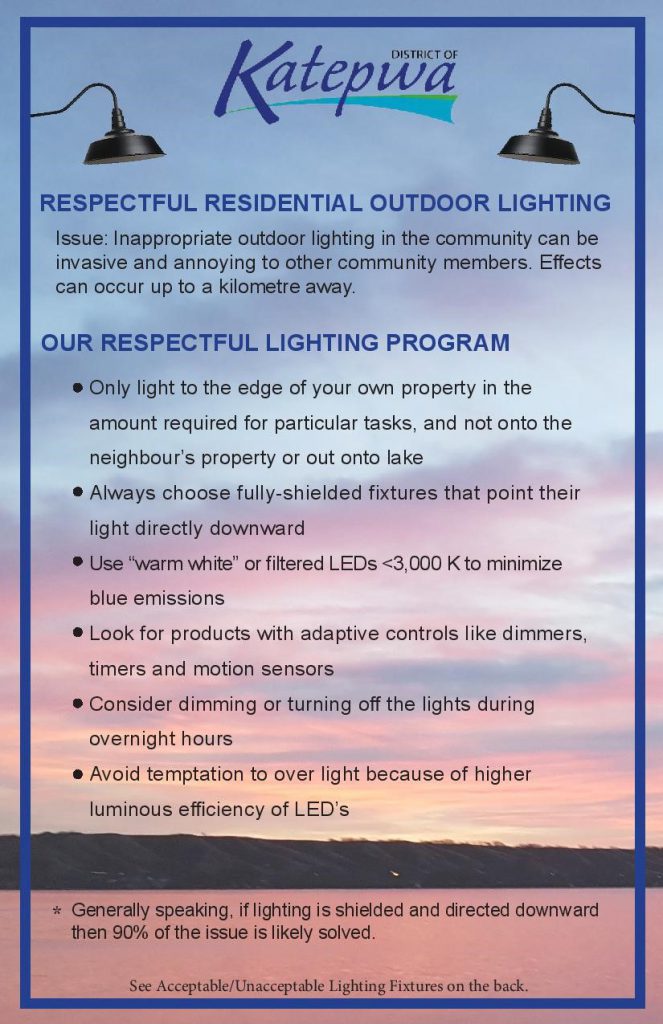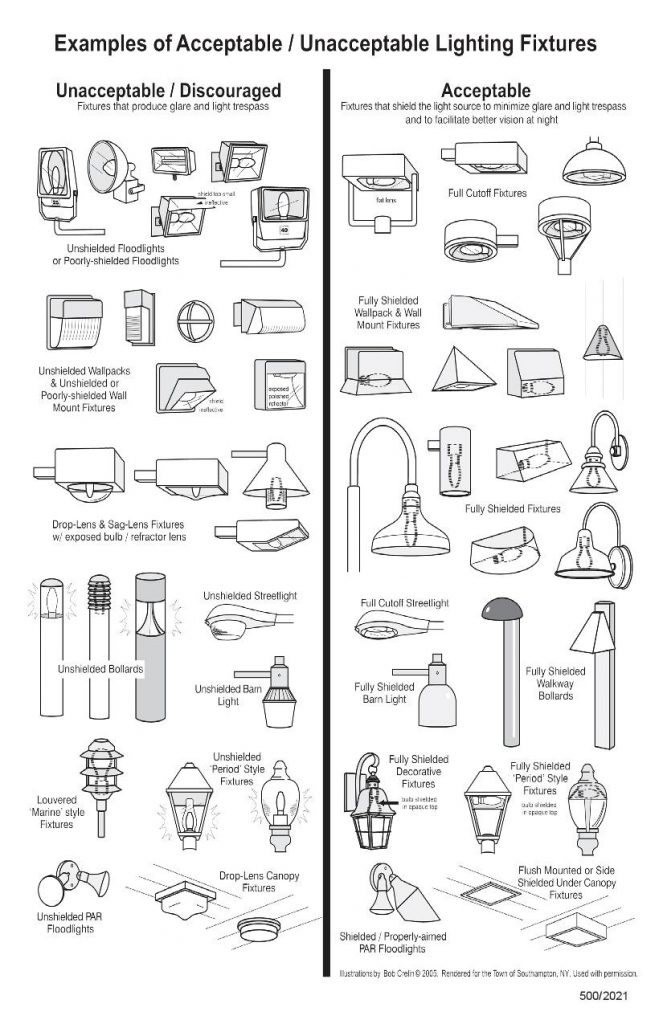 General Remarks:
Fortunately, not all lighting needs to be shielded. Most existing, low wattage lighting around Katepwa Lake is very acceptable.
Feel free to light up your yard as much as you think is necessary —– just try to keep it directed only onto your property.
We are not asking you to have fewer lights —– just suggesting to have better directed lighting with your current lights.
Question: Why are we doing this?
To maintain the evening ambience of soft light around the lake.
To set some guidelines now, so that yard lighting does not become problematic in the future.
To establish a program that other lake communities may wish to follow.
People are generally not aware of the effect their lights have on others. When they become aware they are happy to make a change.
Question: Are there any consequences if I do not comply?
There are no bylaw consequences to this respectful lighting initiative. As a community we hope people will willingly comply on their own.
This in an educational process toward a standard which we hope residents will adopt in their own neighbourhood.
On the flip side —– the consequence of following the guidelines is that your neighbors will probably like you better.
Also on the flip side —– by following the respectful lighting guidelines there will likely be fewer annoyed neighbours, including the ones across the lake.
Question: What are the long term objectives?
To ensure everyone's evening lake experience is ambient and peaceful.
To avoid outdoor lighting conflicts between neighbours.
To set a community example for other lake communities to follow.
To have residents phase in respectful lights over the next few years.
Question: Where do I get more information on types of lighting fixtures?
See katepwabeach.ca under Bylaws & Policy, or on our Respectful Lighting Info Card, for illustrations of acceptable/unacceptable outdoor lighting fixtures.
Most of your favorite hardware and lighting stores will have a selection of shielded outdoor lighting fixtures.
Lighting stores of your choice will have additional catalogues or internet sources to show you the range of shielded lights available.
If you want professional outdoor lighting design help, you could check with a home design architect or landscape architect of your choice and obtain direction from them.
        "Let's keep our evenings ambient with respectful lighting"