INTRODUCTION:
We are embarking on an initiative to encourage softer lighting around our forward-thinking community of Katepwa Lake. As street lights need replacing, they will be done with shielded fixtures. We are asking you to join us by making your outdoor lights soft and directed. Take the lead in your neighborhood toward an approach of gentler and respectful outdoor lighting on your property.
The following information will help you achieve that goal.
Included in the following;
Some background on the issue
The issue defined
Six guidelines for our Respectful Lighting Program
Some examples of acceptable and unacceptable lighting fixtures
Four frequently asked questions with answers
A chart showing Kelvin Colour/Temperature examples
Background:
There are now many outdoor lighting options with LEDs leading the way.
Because LEDs are inexpensive to operate, lights are being left on all night.
Lighting that is allowed to project outward and/or upward is the most disruptive.
The dominant blue light spectrum of some LED lighting is the most unnatural, those rated at 3000 K or more. Light in the 2700 K range, or warm white, is less blue and is closer to natural light with an amber glow. See the Kelvin (K) temperature/color chart below for explanation.
There is a movement called Dark Sky that promotes minimizing light pollution into the night sky. We would like to thank them for the direction they provided to us during the development of our Respectful Lighting Program. If interested, see their website for their program details darksky.org
The Issue & Guidelines:
Below is the issue defined along with six guidelines to help overcome it. Please take note of the recommended type of lighting fixtures that meet our respectful lighting guidelines.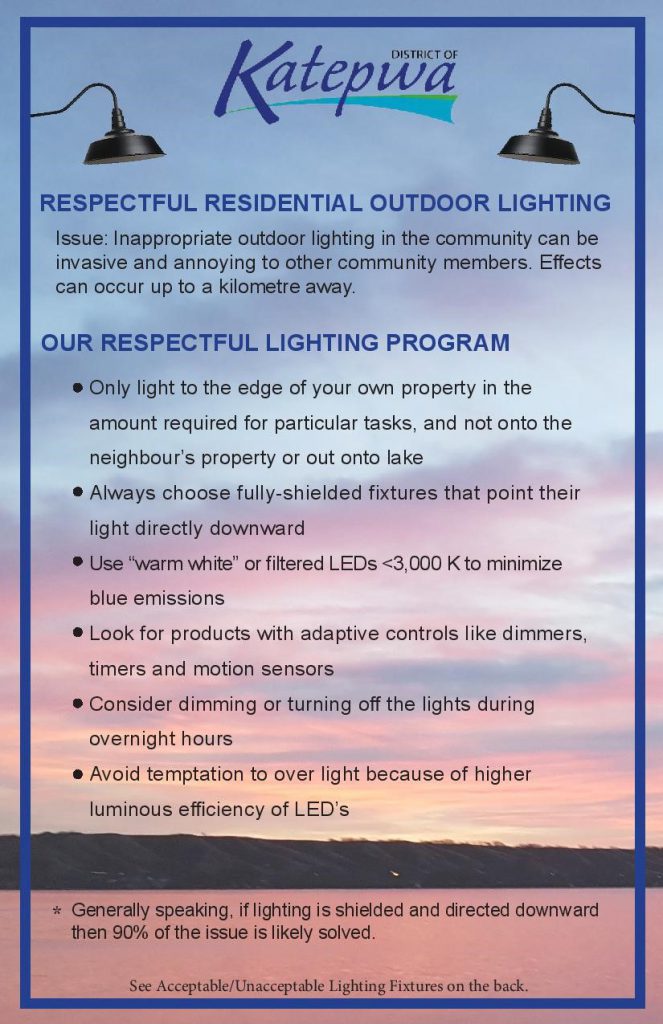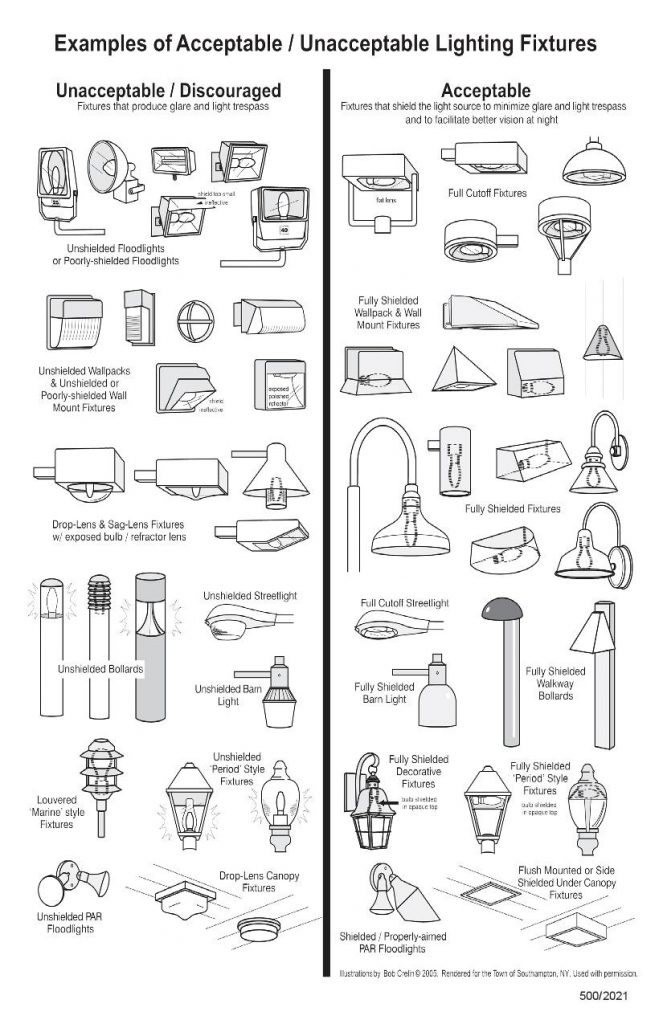 General Remarks
Fortunately, not all lighting needs to be shielded. Most existing, low wattage lighting around Katepwa Lake is very acceptable.
Feel free to light up your yard as much as you think is necessary —– just try to keep it directed only onto your property.
We are not asking you to have fewer lights —– just suggesting to have better directed lighting with your current lights.
Question: Why are we doing this?
To maintain the evening ambience of soft light around the lake.
To set some guidelines now, so that yard lighting does not become problematic in the future.
To establish a program that other lake communities may wish to follow.
People are generally not aware of the effect their lights have on others. When they become aware they are happy to make a change.
Question: Are there any consequences if I do not comply?
There are no bylaw consequences to this respectful lighting initiative. As a community we hope people will willingly comply on their own.
This in an educational process toward a standard which we hope residents will adopt in their own neighbourhood.
On the flip side —– the consequence of following the guidelines is that your neighbors will probably like you better.
Also on the flip side —– by following the respectful lighting guidelines there will likely be fewer annoyed neighbours, including the ones across the lake.
Question: What are the long term objectives?
To ensure everyone's evening lake experience is ambient and peaceful.
To avoid outdoor lighting conflicts between neighbours.
To set a community example for other lake communities to follow.
To have residents phase in respectful lights over the next few years.
Question: Where do I get more information on types of lighting fixtures?
See info card above which outlines acceptable and unacceptable outdoor lighting fixtures. Feel free to pick up a copy of this card from the District Office.
Most of your favorite hardware and lighting stores will have a selection of shielded outdoor lighting fixtures.
Lighting stores of your choice will have additional catalogues or internet sources to show you the range of shielded lights available.
If you want professional outdoor lighting design help, you could check with a home design architect or landscape architect of your choice and obtain direction from them.
Kelvin Colour Temperature Chart:
This chart shows a Kelvin (K) number on the left with a corresponding example of brightness on the right.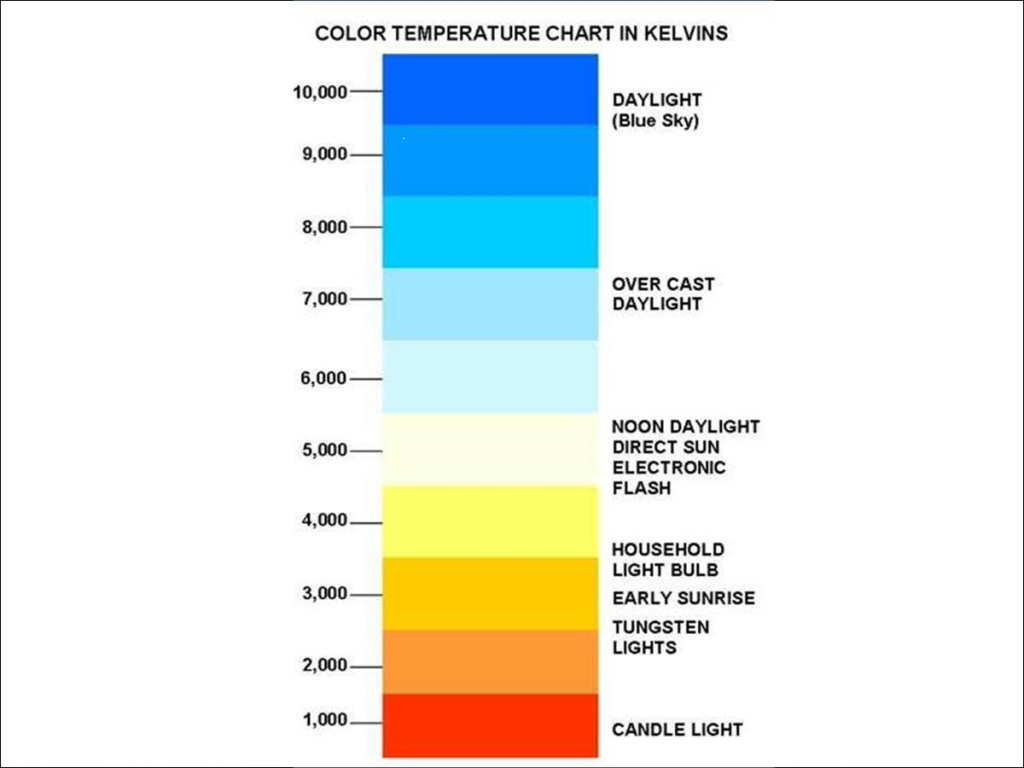 Colour temperature is a way to describe the light appearance provided by a light bulb. It is measured in degrees of Kelvin (K) on a scale from 1,000 to 10,000.
2000K – 3000K or warm white, gives off a soft ambient white glow, often orange to yellow in appearance; best for outdoor living spaces. The higher the Kelvin rating, the whiter/brighter the light will be.
The Kelvin colour rating is marked on light bulb packaging. For respectful outdoor lighting, try to stay at less than 3000K.
Closing Remarks:
Residents are encouraged to play their part in making everyones outdoor evening experience an enjoyable one. The Qu'Appelle Valley deserves our respect, please keep your lighting soft, shielded and directed down.
        "Let's keep our evenings ambient with respectful lighting"