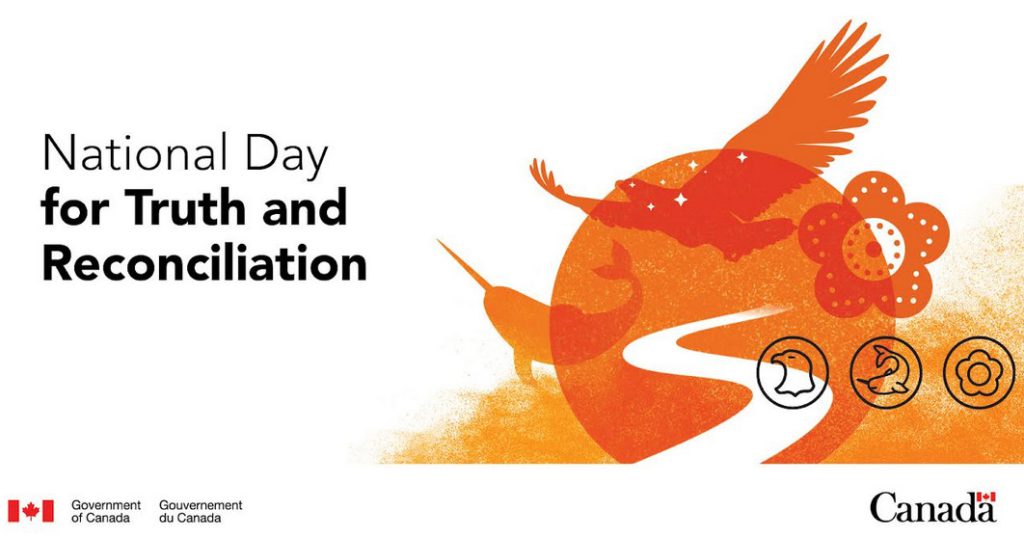 The District Office and Library will be closed on Friday September 30, 2022 for National Day for Truth and Reconciliation
Each year, September 30 marks the National Day for Truth and Reconciliation.
The day honours the children who never returned home and Survivors of residential schools, as well as their families and communities.
Truth and Reconciliation Commission and its calls to action
There were 140 federally run residential schools in Canada that operated between 1831 and 1998. The last school closed less than 25 years ago. Survivors advocated for recognition and reparations and demanded accountability for the intergenerational impacts of harms caused. Their efforts culminated in:
The Truth and Reconciliation Commission ran from 2008 to 2015 and provided those directly or indirectly affected by the legacy of the residential schools policy with an opportunity to share their stories and experiences. The Commission released its final report detailing 94 calls to action. The National Day for Truth and Reconciliation is a direct response to Call to Action 80, which called for a federal statutory day of commemoration.
To learn more
This National Day for Truth and Reconciliation, explore the rich and diverse cultures, voices, experiences and stories of the First Nations, Inuit, and Métis peoples. Whether you want to read, listen, watch, or try, start your learning journey today.
Who are your neighbours?
Follow the link below to see who the First Nations, Inuit and Métis Peoples are who may live around you.
https://geo.aadnc-aandc.gc.ca/geoviewer-geovisualiseur/index-eng.html
#nationaltruthandreconciliationday #orangeshirtday #everychildmatters #94callstoaction